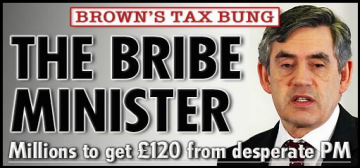 What an incompetent, arrogant Government we have. In 1999 the then Chancellor, now Prime Minister, brought in a 10% lower tax band in a bid to win votes and then in his last budget in 2007 announced that from April this year that band would be scraped in order to fund a headline grabbing tax cut in the middle income 20% band. But they didn't do their sums right and hit their hardcore low-paid voters in their pay packets and as a consequence suffered a
humiliating defeat
in recent local elections.
So what do they do now as they slump in the polls to their worst position in decades? Unbelievably they
introduce an unfunded £2.7 billion tax cut
by altering the tax allowance thresholds. Do they really think the electorate are so stupid as to not see this as not very cheap election bribe? Haven't they spent years rubbishing opposition tax plans as being unfunded attempts at winning votes? Hypocrisy has never been so clearly demonstrated.
Then in another blatantly
example
of the disrespect of the rules of the house they neglected to give the opposition copies of the statement in advance, but it seems the press gallery had been. This made their job of giving a decent response to the announcement difficult.
"The Darling Bungs of May" indeed as
The Sun
put it.
All this on a day that inflation is
reported
to be surging. And Caroline Flint
exposed
the Government's fears on the state of the housing market. How? by walking into Number 10 carrying a confidential briefing document in a clear plastic wallet in front of camera men!