ABSOLUTELY NOTHING!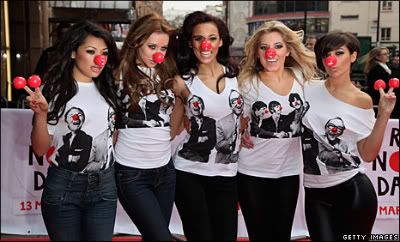 So it's that time again... is it really
only
on every two years? ...yes it is the nation wide guilt-fest known as '
Red Nose Day
' The bi-annual semi-holiday when normal people become all faux-zany for the sake of charity! Schools have non-uniform days, workplaces are full of idiots with dyed red hair - the general public go around wearing ridiculous plastic
red noses
which they obtained after making a small donation at supermarkets and petrol stations
"oh I just fancy a few bars of chocolate, beer and a tank of diesel while I am here"
This year the patronising slogan is "do something funny for money" - while some will decide this involves spending the day sitting in baths of baked beans, I am sure many this year will be thinking "I would rather be doing a job for money!"
As usual the entire evening's output of the BBC will be turned over to the cause in the form of a telethon where celebrities like
Jonathan Ross
(who reportedly earns £6m/year from the BBC) will bully the watching public to hand over their hard-earned wages to charity!
The 'funny sketches', 'specials' and 'free adverts for rubbish TV programs you would normally never watch' will be interspersed with special reports where celebrities, that have been sent to these deprived countries, can look into the HD-camera with tear-filled eyes and say something along the lines of "your money helped pay for this, please give us some more"
How much money is spent on this sentimental crap? What is the cost of flying a camera crew out to Africa? How much did these celebrities claim on expenses?
This year a bunch of nonentities including Gary Barlow, Ronan Keating, Chris Moyles, Ben Shephard, Cheryl Cole, Kimberley Walsh, Fearne Cotton, Alesha Dixon and Denise Van Outen climbed Africa's highest mountain to raise money. Even
Gordon Brown
took time out of saving the world to get in on the publicity bandwagon.
They did raise £1.3m which is laudable but how much did the whole venture cost and who paid for it? I am sure the financial cost of that group climbing Kilamanjaro was huge.
The cynic within me is convinced that many of the celebrities are just involved for the publicity rather than the cause. If they were then I am sure a sizeable donation from their own bulging wage packets would go some way to solving world hunger?
Reading this
incredulous report
on the BBC News website today about The Saturdays (responsible for this year's atrocious cover version charity single) was the last straw for me
"We're working the hardest we've ever worked to promote a single because it's so important to us that people go out there and buy it because it's for such an important cause."
Bollocks! Not only does the article manage to advertise Red Bull (as a rock and roll drink!) but it also contains this little gem.
First, it is only their fourth single and secondly, the track is for Comic Relief.

"We were honoured to be asked so early on in our career," says Molly.

"We're so happy to do it, and do everything we can to help it. It's amazing we can."
I hadn't even heard of The Saturdays, so getting involved is obviously helping to publicise them and listening to their record they will need all the help they can get with their career, especially as they no longer have the Woolworth's bargain bin to shift their dire albums.
I am sure many of the redundant shop workers would happily trade places and work as hard as them for the money they are undoubtedly going to make on the back of this 'charity work'