Have taken one further step up the amateur radio licensing ladder, passing the Intermediate exam and assessments. A big thank you to
Grantham ARC
and Alan and Keith for invigilating and congratulations to my fellow candidate Mark Orbell who also passed.
My new callsign is 2E0NRD
Current QTH
I am currently writing this blog entry while on holiday sitting in the caravan watching the sun rise over the Lake District. I have brought the rig along with a
M0CVO magitenna
for HF and not wanting to miss out on the 144MHz UKAC tonight have a
Sandpiper 3-Element Delta Quad
.
It has already caused some strange looks on the campsite while I built it up and tested it last night and I hope I won't have any RFI issues as caravans are often fitted with wideband TV amplifiers! Thankfully the site is currently very quiet as the school holidays have finished.
Testing the Delta Quad last night
Initially was going to make a Moxon for 2m but I messed up my first attempt and ran out of time to make another so at the last minute ordered the Delta Quad from Sandpiper. It is a well built antenna I just had to cut the three loops and solder them up, the instructions were very clear. It is easily dismantled and seems ideal for portable work so is an investment for the future. I hope to use it during July's
VHF NFD
.
The antenna has an excellent VSWR match and when testing I clearly heard a cw/jt65 beacon around 144.480MHz which must have been
GB3NGI
on the Slieve Anorra Mountain in County Antrim, Northern Ireland (IO65VB)
I will be operating as M6GTG/P tonight as don't want to upset my UKAC scores and I am not really sure what to expect as surrounded by mountains in most directions here but should be fun. I might even rope in Boris to give me a hand
Boris not looking too impressed
Last Tuesday (27 May) was the 50MHz UKAC. I had intended to do some operating over previous Bank Holiday weekend and with reports of Sporadic E propagation picking up on 6m I had put my homebrew Moxon back up on the pole with the new rotator. Unfortunately the operating was curtailed due to the discomfort I am currently suffering due to a trapped nerve in my back.
That weekend saw some horrendous weather and it rained heavily for several days, indeed it had rained most of Tuesday, checking the VSWR in the evening before the start of the contest I was shocked to see it had risen from 1:1.5 to nearly 1:3!
I knew the bad weather was forecast before putting the antenna up so had made sure all the coax connectors and the feedpoint were properly sealed with self amalgamating tape so was somewhat perplexed. In the end I decided what I thought the issue was, the moxon frame was untreated softwood and in the bad weather had become very wet and damp and suspect it was affecting the resonance.
Despite this I decided to carry on as I was only running 10W and had a productive few hours despite some local noise.
I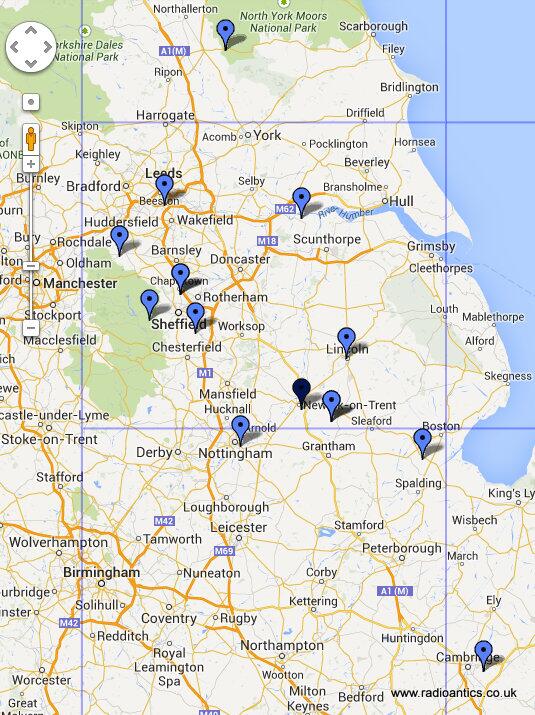 27 May 2014 - M6GTG 50MHz UKAC QSO Map
Anyway time to put the kettle on and I will post an update about how I get on tonight.