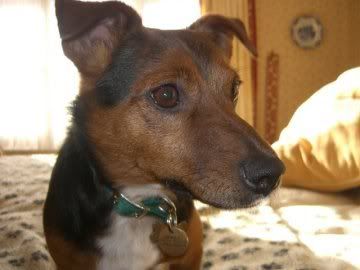 One of the drawbacks of having five dogs is the cost of veterinary treatment. As well as
Fred's recent treatment
for his eyelid tumour we have been having our
new dog Basil
treated for lameness. He became lame (or was possible already lame) on his front leg almost immediately on coming home. Initially we suspected a simple strain due to over exuberance on meeting Charlie and Boris. He did throw himself around at high speed (and still does) and had difficulty negotiating the vinyl flooring in the kitchen resulting in him colliding with a radiator! He also has a habit of getting under my feet.
Basil has had two courses of anti-inflammatory drugs, the second one being steroid based and it did seem to help, however he is limping again. The vet has decided to have him in to x-ray the leg and to have a good feel and examination while Basil is under. I suspect it will be a case of cage resting him and more drugs, I had been loath to cage rest him while he was settling in to his new home.
So Basil was dropped off at 9am this morning and I will be collecting him at afternoon surgery. I think the other boys enjoyed their relaxing walk when I got back without the manic black and tan terrier!