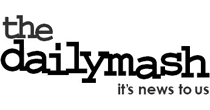 I am an infrequent visitor to
The Daily Mash
a satirical website covering current news with spoof stories, commentary and opinion. It can be a bit patchy and puerile (nothing actually wrong in that) but when I am feeling a little jaded with the world it sometimes makes me smile, like today.
A selection of recent articles.
RYANAIR PLANES TO SMELL STRONGLY OF URINE AND FAECES
Tom Logan, a frequent flyer from London, said: "I'm really looking forward to loading up on curry and Guinness and then going off like a muck spreader the next time I fly to Bratislava."
BROWN REFUSES TO HAND BACK PENSION
Martin Bishop, head of pension rows at the Institute for Studies, said: "It's a fascinating dynamic. The politicians blame the bankers, the bankers blame the politicians, and the ordinary taxpayer is down on all fours with a confused look on his face, being f**ked at both ends."
GAIL TRIMBLE TO BE BURNT AS A WITCH
Emma Bradford, a terrified sales manager from Leeds, said: "How could any woman who is not the carnal chew-toy of Beelzebub know so many different things?
CLARKSON FACTUALLY CORRECT
"Or if he had wandered around the stage with one eye shut, bumping into things while sticking his tongue inside his bottom lip and banging the backs of his hands together while screaming 'och aye the noo, I'm Gordon the spazzy', then yes, that is perhaps going a bit too far."