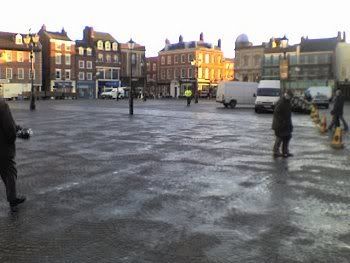 I almost forgot to post this picture I took last Friday (1st February 2008). Taken with my Motorola L6 phone it shows the empty
market
square in
Newark
. Seems the high winds experience that day were too much for the council's health and safety officiers and they feared market stalls taking off so cancelled the market.
I walked in early to get my fruit and vegetables as I do every week and was somewhat bemused along with everyone else to see the empty square. I had to go ask the bored looking gentleman in the yellow jacket to ask him what was going on, to be honest it was blowing a gale and could understand the issues. One drawback was I had to go to
Waitrose
to buy some outrageously expensive and frankly awful quality fruit and veg to tied me over the weekend. As well as the price I was also shocked about how little of it came from the UK.
Tomorrow I am off to try the
monthly farmer's market
for the first time. I have never been able to before because of work. May take some pictures and report back.