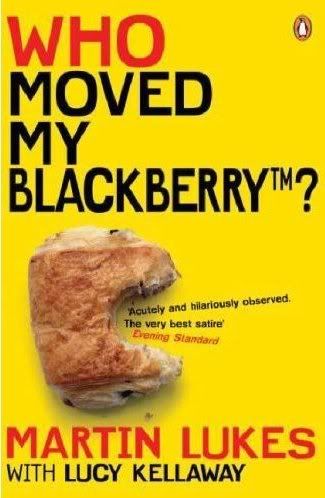 Just finished my latest book, courtesy of
Nottinghamshire Libraries
,
Who Moved My Blackberry
is an interesting novel. The story is told from the viewpoint of the main character, Martin Lukes, in the form of email messages to his boss, his secretary, his wife, his son, his career coach and his best friend.
The character of Martin Lukes was first introduced by
Lucy Kellaway
in her column for the
Financial Times
. Her column has poked fun at management fads and jargon and celebrated the ups and downs of office life.
I have never read the Financial Times, or read Kellaway's column and I admit the geeky reason I picked up the book in the library was because it had the word
Blackberry
on it.
Martin Lukes (listed as the co-author), is a forty-something middle manager striving to break into the top ranks of corporate life. He is viciously ambitious, he thinks he's great fun, he thinks he's got a terrific sense of humour, he is desperately un-PC and is absolutely clueless about his shortcomings.
It took me a while to get into the style of writing, and I have never actually experienced the business environment described, but it was worth the effort as it is very funny.
You can read an
excerpt here
.